Wellness at work is (or should be) front of mind for leaders of all types of businesses. I first wrote about the topic in May 2017, when Charlton Morris introduced our new wellness programme designed to help our employees stay fit and healthy. We took it one step further last year when we gave everyone in the business a day off for 'Life Admin'. I am now excited to announce that we have partnered with Workplace Mental Health Specialist, Jaimie Shires to take another big step forward.
Mental health is a major issue that's gone unnoticed for a long time in businesses, in the UK and elsewhere. Jaimie mentioned the Mental Health at Work Report 2017, in which it was reported that 60% of workers have experienced mental health problems at work, with over 30% of staff being formally diagnosed.
These are huge numbers, costs businesses around £1,300 per employee, per year – according to The Stevenson/Farmer Review on Mental Health. This amounts to anywhere between £33 billion - £42billion per year for UK businesses.
Interestingly, these costs aren't all due to lost time through absence. Whilst absenteeism is a problem, costing around £8 billion a year in the UK alone, a far bigger issue is presenteeism, where people are still coming to work, but suffering in silence. That is estimated to cost businesses between £17 billion - £26 billion a year.
So, purely from a business perspective, there is a compelling argument to put measures in place to address employee mental health. We'll talk about what Charlton Morris are doing later, but let's first touch on a few things other companies can do to help.
Mental Health & SMEs
For SMEs, 'growth mode' can often come at the expense of employees looking after their own well-being. Over the course of our journey in the last six years, this is certainly something we can attest to.
Throughout our journey, we first introduced a physical well-being package, before more recently moving toward a more formal mental health strategy. Jaimie said this is a familiar pattern and the realisation many businesses are coming to is the importance of preserving employee mental health, which has left her industry 'scrambling to meet the increasing demand'.
Backing it up
Whilst a lot of companies are having conversations about mental health in the workplace or even bringing in external help, one or two sessions on mindfulness might not be enough to identify or address problems.
Jaimie told me that in sessions she had run in the past, people have burst into tears when asked how they are feeling. If this happens in your business on the back of a mindfulness session, what happens next? Is there ongoing support? It's critical that companies looking into this provide a well-rounded solution that genuinely works for employees.
Practical steps
I asked Jaimie what businesses could do to address what is clearly a huge problem for UK businesses. She believes a philosophy of early intervention and prevention is key. In her words;
"If you can spot the signs early, and you're giving that individual the right support structure or options... then they can do something about it and recover much more quickly."
Her aim is to educate employers and line managers, giving them confidence to support staff and identify potential issues early.
"When you train and educate, you are leaving a lasting legacy. Then that can continue in the future as the organisation continues to grow."
Organisations have to make sure mental health is a priority. Once you've done that, Jaimie has identified four steps companies can take;
Undertake a mental health SWOT analysis. Identify strengths and weaknesses, what are the threats to good mental health and identify opportunities to promote positive mental health.
Once objectives are identified, communicate! How are you going to make mental health part of the organisation's culture?
Now you can focus on prevention, which comes from education. Train staff so they have self-awareness and can identify issues in others and how to handle these sensitively.
Establish and communicate a support structure, if something does happen all employees know who they should speak to. Identifying who support staff are and where they're based is key to an effective mental health strategy.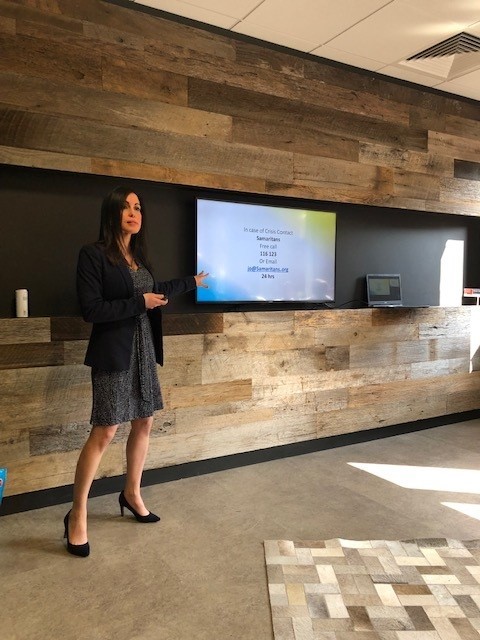 Mental Health at Charlton Morris
So, what have we done? Taking all of the above into account, we have partnered with Jaimie to deliver a unique mental health package that we hope will have an amazing impact on our employees. This is what we are committing to;
We have surveyed our team to understand our current understanding and awareness of mental health and we are building inclusive workshops around our needs.
We are educating our managers to become Mental Health First Aiders.
After the workshops, Jaimie will be hosting an in-office drop-in facility for all employees to have an informal conversation. It's an opportunity to start talking about an issue, or it may be the case someone wants to talk about how great they are feeling!
Between the hours of 9am - 6pm, Monday to Friday Jaimie is available for all employees to contact directly and talk about any issue at all. Jaimie will conduct a needs assessment with the aim to either provide counselling support or provide that individual with clear guidance on a route to recovery, in whatever form that may be.
If Jaimie identifies any issues that do require further attention, Charlton Morris will pay for up to 12 one-to-one counselling sessions for that employee.
I am incredibly excited and proud to roll out this initiative, which we have launched today. With the pressures that come alongside a job like ours, I believe it is our responsibility to do all that we can to preserve the mental well-being of our employees.